Departments
Exclusive - THE book on Traditional & Classic Siamese cats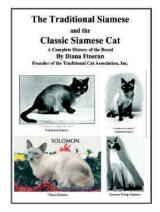 Written by the Founder of TCA, Inc.
---
---
Tullycrine
Affordable
Web Design
---
Taking Photos for Registration Purposes
The requirement for the purpose of the Genetics Committee approval of your cat is to have three photos. One photo is required for the front view, and one of each side. This replaces the ability of Registry personnel to actually hold on to the candidate, and look closely at the color and attributes of the animal. Color is important in determining point color, eye color, and any shading for cats with multiple color coats.
Here with is a series of photos that can be used to represent what the TCA, Inc. Registry would like to see in your supplied photos in terms of color and views of each required pose of the cat. A good rule of thumb should be to use available sunlight as much as possible to minimize red eye (a sun patch on your floor can be used, or near a window) , and get as close as you can without overexposing the picture (especially if using flash). Click on the pictures below to enlarge them.

Front
Left Side
Right Side
We are not judging the quality of the picture, as much as the ability to identify colors, shapes, and coat pattern details. There is no award for the best photography, nor points taken off for the worst. The best advice to follow is to help us to SEE the cat.
Photo Credit: Applecat Acres Keyla Jewels of Siam. Owner: Tracey R. Royer